Best Restaurants in Havelock Island
During your travelling through Havelock, you can experience a wide variety of seafood that is a major element of cuisines in the islands. The people of these islands are mainly non-vegetarians, as they depend on seafood primarily. Non-veg items like meat are also included in their food widely. With the development of tourism in Havelock, several good restaurants started to function here that try to give all types of food suitable for every plate. The good quality restaurants in Havelock offer various food items of different countries of the world like Chinese, Italian, South-Indian, North-Indian, pure veg and non-veg food. All resorts in Havelock have a good in-house restaurant. Apart from the resorts below are few good multi-cuisine, if you wish to move out from your resort for Lunch and Dinner
Top Places to Eat in Havelock Island
Here is the list of some best places to eat in Havelock island in Andaman.
Blackbeard's Bistro
Located within the Emerald Gecko resort, it is a splendid, small restaurant in Havelock. It is the first budget restaurant that serves gourmet food. The restaurant is decorated with dreamy little lights to provide a romantic dining experience to the visitors at night. Try the veg and non-veg dishes in Blackbeard's Bistro without worrying about the budget. Their lovely beachfront restaurant serves Indian and Continental fare. For the spice lover, the Bengali flare is a real treat: hand ground spices, coconut milk, mustard oil and tonnes of fresh fish.
Address: Emerald gecko, Beach No. 5, Havelock Island- 744211. Andaman and Nicobar Islands, India.
Contact: +91-3192-282476
---
Red Snapper Restaurant
The restaurant in Havelock is part of the Wild Orchid beach resort with rich ambience and polished bamboo decor. It is one of the most famous seafood fine-dining restaurants in Havelock. For dinner, they exhibit their fresh seafood on an ice podium in the middle of the restaurant so you can choose your fish, crab or lobster depending on the size and price tag. The restaurant is attached to a bar so this is one of the few places on the island, where you can enjoy a drink while dining. The spacious seating under a covered terrace, dim lighting and breezy atmosphere make it ideal for a lavish dinner experience. The breezy outdoor deck seating is a good spot for a beer.
Address: The Wild Orchid, Havelock Island- 744211. Andaman and Nicobar Islands, India.
Contact: +91-9531835655
---
Full Moon Cafe
Reputed to be one of the best places to eat in Havelock. You will love the food and the ambience. It is well known for its extensive menu, which includes Indian, Mexican, Italian and other western style dishes. The food here cooked to local flavours. Both Indian and Continental food is served here. Run by an Irish-Indian couple, this busy thatched-roof restaurant shares a site with Dive India on Beach 5. Seafood and desserts here are worth trying. This is one of the few restaurants that serve seafood in diverse styles.
Address: Govindnagar No.3, Havelock Island- 744211. Andaman and Nicobar Islands, India.
Contact: +91-9933254220 / +91-3192-282222
---
Fat Martin's Cafe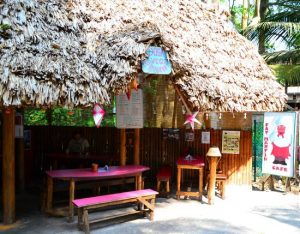 It is the most popular breakfast place on the island. The food is here is perfect for a quick bite and is freshly prepared. The menu is very different from most other restaurants. This modest, cosy restaurant serves a variety of fresh juices, milkshakes and ice-creams along with the usual cafe fare. It is a Squeaky-clean open-air cafe with a good selection of chapati rolls and dosas, including paneer tikka and Nutella dosas. With low sitting and lounge music, this roadside eatery has won hearts of many backpackers with its laid-back atmosphere. We recommend you try a desert named 'Hello to the Queen' here.
Address: Village Number 5, Vijay Nagar, Havelock Island- 744211. Andaman and Nicobar Islands, India.
---
Anju Coco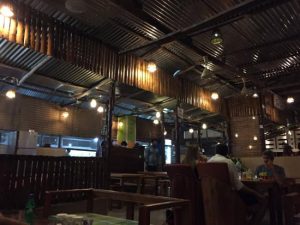 This eatery is the most happening place on this unusually quiet island after dark. One of Havelock's best, Anju-Coco offers a varied menu, with standouts being its big breakfasts and BBQ fish. This restaurant is quite popular among the locals and tourists. It is a paradise for seafood lovers and offers great value for money. Be prepared to remove your shoes at the entrance!
Address: East side of the main road, in between Beach No.3 and Beach No.5, Havelock Island- 744211. Andaman and Nicobar Islands, India.
Contact: +91-9873096841
---
Barefoot Bar and Restaurant
The restaurant and bar at Barefoot's jungle resort in Radhanagar. Live catch station in the restaurant offers a variety of seafood. You may be lucky to find unusually large lobsters and crabs prepared delicately. One can savour Indian and Continental dishes. This restaurant is known for its cocktails and chef's specials of the day, Chocolate Salami also the chef's special is a classic dessert. Right next to the restaurant is a bar lounge where guests can enjoy drinks over jazz music in a quaint setting. Booking a table is recommended if you are not staying at the resort.
It is advisable not to confuse this restaurant with Barefoot Bar & Brasserie (B3), which is near Havelock Jetty.
Address: Radhanagar Beach, Havelock Island- 744211. Andaman and Nicobar Islands, India.
---
Barefoot Bar and Brasserie (B3)
Commonly known as B3, this place proudly boasts of being the best pizzeria in Havelock, and it sure does live up to its name. The menu caters to mainly continental dishes and most are cooked to perfection. The pizzas and pasta are the most commonly ordered items on the menu. It's outside decking makes it a good place to wait for your ferry. It's a bit crowded at times, but the food and drinks coupled with the general ambience makes it a place worth visiting.
Address: Havelock Jetty, Havelock Island- Andaman and Nicobar Islands, India.
Contact: +91-8039515177
---
Swapan's
One restaurant you cannot afford to miss in Havelock is Swapan's. It is a tin shack run by a very enthusiastic guy called Swapan. The grilled fish in banana leaf is the most popular item on the menu here. The owners here personally make grilled fish and serve it on a banana leaf. This is one of the main specialities of the place. You could even buy your own fish from the market and Swapan will cook it for you. They offer some Indian dishes as well, but grilled seafood is definitely the draw here. The restaurant walls are covered with handmade posters bearing comments in varied languages. It is a small restaurant and for those who value an affordable and delicious meal more than the ambience. The restaurant is open only for lunch and dinner.
Address: Govind Nagar, Village No.3, near fish market, Havelock Island- 744211. Andaman and Nicobar Islands, India.
---
Golden Spoon
This place is so small and reminds you of an Indian dhaba, but that does not stop you from tasting the best seafood in Havelock. Golden spoon is a delight for seafood lovers and serves all kinds of fresh fish, prawns, lobsters and crabs cooked in simple styles. The service takes some time but the flavours are mouth watering. It serves some Israeli specialities as well to please the tourist community. This is a great pocket friendly eating joint in Havelock Island in market area. Do not miss this place if you are in Havelock and don't judge this small hotel by its looks, because you'll miss out on probably the best seafood restaurant in Havelock.
Come early for dinner so you don't have to wait.
Address: Village No.3, Govind Nagar, Havelock Island- 744211. Andaman and Nicobar Islands, India.
---
Dakshin
Downstairs from B3 restaurant is the sophisticated Dakshin, which specialising in South Indian breakfasts and lunches. For lunch, they offer a thali, which is good enough for one person. The place is located at the jetty and is always packed with people. It is a nice place to munch a little while you are waiting for the ferry.
Address: Govind Nagar, Havelock Jetty, Havelock Island- 744211. Andaman and Nicobar Islands, India.
Contact: +91-9940214603
---
Clownfish Restaurant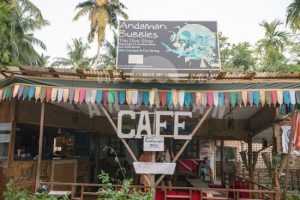 Located within the Wild Orchid Resorts, Clown Fish Restaurant in Havelock is a very popular on the island. It is located at the Andaman Bubbles Dive Centre. The place opens early so that diver can have breakfast before heading for their dives. The food is more western here with local items on the menu. You will find a wide range of seafood on the menu. The restaurant serves some excellent pizzas and milkshakes.
Address: Andaman Bubbles, Beach No.5, Havelock Island- 744211. Andaman and Nicobar Islands, India.
Contact: +91-9531835655
1 Comment