Neil Island Travel Guide
Neil Island is much smaller than Havelock Island but it is the must visit place for those who are searching for relief. Empty green fields, excellent food, good staying options, wonderful views, beautiful sunset, starry nights and coastal beach make this island more incredible.It is also known as the Vegetable bowl of Andaman. Plenty of marine life is here and ideal location for the eco-tourism. This Island is relatively smaller but calm and friendly place. This island is an ideal place to chill out after the bustle of Havelock. This island is really rejuvenating and enjoyable for the enthusiastic travellers. Tourism in Neil Island is all about Beaches and Water Sports. There are number of beaches in Neil Island.
Only BSNL and Airtel service are available at Neil Island.
Places to Visit in Neil Island
There's a lovely slow going life here, you can enjoy cycling through beautiful and picturesque villages and you will get many friendly hellos from kids and adults alike. Beaches are prime attractions in Neil Island . Neil's beaches are numbered from No.1 to No.5, No.1 beach has a lovely sunset point. No. 2 has a natural bridge formation.
Must to visit places in Neil Island are Ramnagar beach, Bharatpur beach, Sitapur beach etc, the settlers name the beaches after mythical character of Ramayan.
Things to Do in Neil Island
There are plenty of things you can do in Neil Island. Good old swimming is always an option in beaches, but if you want to some change then you have probably enjoyed fishing and the local offers activities like trekking. You can also hire a bicycle from resorts and small rental shops, so you can visit wherever you want in Neil Island.
Visit Sunset Point which is located in the western part of the island. The place is known for a beautiful sunset and also have caves. The water here is perfect for snorkelling. You can get early morning to explore the best of marine life.
Snorkelling and Swimming can be done in number of beaches in Neil Islands. There are a number of tour operators that offers scuba diving packages which will cost around Rs 4500 per person.
Places to Stay in Neil Island
You can get a great deal when you are visiting in low season. There are a number of hotels in Neil Island you can get at reasonable rates. Govt. run Accommodation named Hawabill Nest at Neil Island offers accommodation for tourists. Some Famous Hotels in Neil Island are Silver Sand Beach Resort, Hotel Kingfisher, Sea Shell Resort, Pearl Park Resort, Tango Resort, Kaala Pani Resort. Tango Beach Resort is the most famous beachfront resort and amazing place to relax.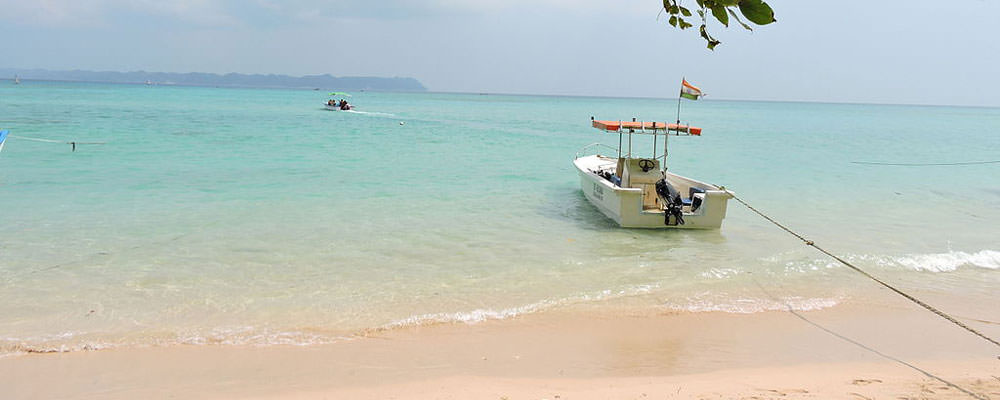 How To Reach Neil Island
The distance of this island is 36 km east of Port Blair. Neil Island does have limited government ferry service, so the tourists need to depend on private boats. Bharatpur Jetty is the only jetty on this island which makes it the only entry–exit point of the island.
Ferries to Neil Island are usually at 6:30 AM and 11:00 AM. The tickets to these ferries can be booked at Andaman only since there is no online system. Either you can make your tour operator to book these tickets. Apart from government ferries, you can take private cruises also which are not that costly. Also, it takes less time to reach Neil than govt ferries.
Getting Around
You will enter the island from Bharatpur Jetty. Neil Island is not that big it's about 7km from one corner to other. Bicycles are available on the island since the island is small tourist can explore the island on bicycles easily. But is you are not in the habit to ride the bicycles that you can also rent 2 wheelers here. You can rent a two wheeler for Rs 300 per day. It's the best way to get around the Neil Island. The government ferry for Port Blair leaves at 8am and 2pm. There are also two ferries a day connecting to Havelock. Three times a week there is a ferry to Long Island and Rangat up north.