Top Things You Must Do in Havelock Island
Known as a tropical island paradise in the cluster of the Andaman Islands, Havelock is popular for its striking white sand beaches, crystal clear waters and excellent corals. Nature and adventure lovers visit this island to enjoy. This island has encouraged tourist to visit.  Snorkelling, scuba, diving, trekking, sailing, parasailing, are some of the activities you can do in Havelock Island. Take a trip to beach for some adventurous sports or just relax and sunbathe. Shop for local island crafts or savour some delicious seafood. Revel in the festivities of the festival celebrated here and let Havelock Island with its pristine beaches and clean fresh air, rejuvenates your senses. There are numerous things to do in Havelock Island for Adventure and Beach Lovers.
Some famous things to do in Havelock Island includes various water activities like scuba diving, sunbathing, Beach-combing, watersports, sea walk, surf riding, snorkeling, swimming, watching the sunset or sunrise, game fishing, elephant ride, bird-watching, trekking, sailing, kayaking and much more. Havelock Island is the most famous destination of Andaman Islands hence the facilities of adventure activities are abundance here. Many of the certified scuba operators offer their services here. Barefoot Scuba is one of the most famous amongst them.
Activities and Things to Do in Havelock
Sightseeing in Havelock Island
Sightseeing places at the Havelock island includes the two famous beaches of Havelock Island are Radhanagar Beach and Elephant Beach. Radhanagar beach is considered to be the striking beach on the island has been rated as the best beach in Asia. Elephant beach, which is further north from Radhanagar Beach, is popular beach. The coral is the best here and hence it is a great site for snorkelling. Beaches of the city are very beautiful and clean. In case, you are lucky you can even spot few dolphins. This beautiful island reflects ecotourism where you can explore palm fringed sea beaches, lush greenery, various marine species and dense forests. Huge diversity of flora and fauna is easy to get there. You can walk on the white sandy beaches and see exotic view.
---
Explore Havelock on Two Wheelers
Havelock Island is full of beaches and natural greenery. Being a small island it can be easily explored via two wheelers and four wheelers. Dense lush green forest of Havelock island gives perfect place for hiking and bird watching. While you can explore the unexplored beaches of the island. One can easily explore the whole island in 2 days via bike or scooter which are available for rent.
---
Scuba Diving in Havelock
Scuba diving is one of the popular water sports activity and a must do thing in Havelock island. Although Havelock Island is just opening to tourists, the island with its crystal clear waters and stunning coral reefs is fast becoming a popular destination for scuba diving. Havelock Island has diving sites that are suitable for both first time and experienced divers. The underwater visibility is up to 40 metres and you can spot variety of fishes like Manta Rays, Banner Fish, Angelfish, Snappers, Stingrays, Cuttlefish, Tuna, Barracuda, Glassfish and many more along with lots of beautiful coral. The abundance of marine life around Havelock provides a rich variety of varied diving sites. Some of the most famous diving sites in Havelock Island are 'Seduction Point', 'Aquarium', 'Lighthouse', 'Pilot Reef', 'Mac Point', 'Minerva Ledge' and 'Turtle Bay'. The ideal dive season is from December to May.
---
Enjoy Sunset and Sunrise
Radhanagar Beach is one of the most famous place to watch the phenomenal sunset in Havelock Island. What better it can be to watch the sun goes down along the cool and refreshing breeze of the sea. Another famous point to watch sunset in Havelock are Neil's cove.
---
Swimming & Snorkeling
There is numerous beaches like Radhanagar, Vijaynagar, and Elephant beach where tourists can enjoy swimming at the calm and clear waters of the sea. Snorkeling is available to view shallow areas of the coral reefs without going underwater with scuba equipment. Under the water, one can glide along the coral shelf and experience the strange and striking coral formations. One can see fish swim, nibbling at colorful algae, sea anemones and plankton right next to you. It is a adventurous fun activity, where one can take a plunge into the shallow reef areas and enjoy the amazing under-water corals structures and vivid marine life. Though snorkelling can be carried out at most of beaches. The famous beaches, which is excellent locations for snorkelling are Radhanagar and Elephant beaches.
---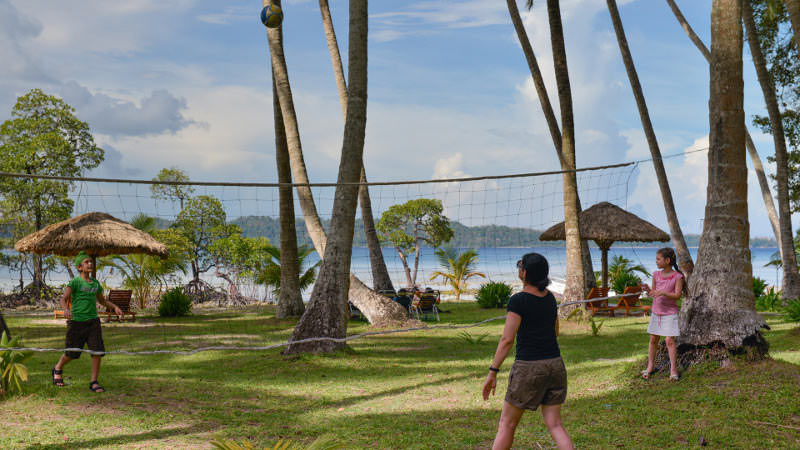 ---
Elephant Ride
Havelock Island is logged using elephants. The spectacle of elephants working in the forest and bathing and swimming in the nearby sea is a special attraction. The Elephant Training Camp managed by the Forest Department at Kalapathar open its doors to tourists occasionally. You can enjoy these elephant rides at Elephant beach in Havelock.
---
Bird Watching
The Island is surrounded by emerald lagoons and tropical evergreen forests. In some stretches, mangrove swamps line the shores. It is a landscape of primeval splendor. White-headed mynas or the woodpecker with a white-barred black mantle and red crown, fulvous-breasted woodpecker are endemic to the island. The olive-backed sunbird and Andaman swallow are other endemic birds in the islands, which are a birdwatcher's paradise. For nature lovers its the best thing one can do in Havelock Island.
---
Game Fishing
Game Fishing is another one of the most famous things to do in Havelock Island. For fishing enthusiasts, the sea of the coasts of Havelock Island, in Ritchie's archipelago offer some of the best catches. There are organizations that offer all kinds of fishing equipment and boats. Also, there are many fishing competitions that are organized all around the year.
---
Kayaking
Kayaking is another famous activity to do at Havelock Island. Safe and Calm creeks in Havelock offer an excellent scope for kayak lovers. There are number of tour operators that provide all the equipment for Kayaking.
---
Trekking in Havelock
Since the scenic beauty of this island is best explored on foot hence trekking is another activity you can enjoy here. If you are an adventure enthusiast, then this activity is meant for you Explore the dense forests at Havelock Island through trekking.
---
Shopping in Havelock Island
Havelock doesn't have a lot of shopping options. There are a few local shops in Market No.3 and in No.2 village, which are open only till the afternoon. Markets are quite smalls but sells a surprisingly large array of goods including toiletries, basic food products, chocolate and other snacks, bottled water and soft drinks. Jewellery made from shell and wood are good buys. Shop for some traditional island crafts here or in case you are planning to buy those ever-present Andaman & Nicobar T-shirts buy one with black printing, as white texts bleeds off the first time you wash it.
---
Eating Out in Havelock Island
There are numerous good restaurants in Havelock Island.  However, due to increasing tourist development in the islands, settlers from the Indian Mainland, who grew up here, have opened up various restaurants offering delicious Indian, Chinese and Continental cuisine. You can also buy a catch of the day being sold at the port and ask your guesthouse to cook it for you for a tree.
---
Festivals & Events in Havelock Island
Revel in the festivities of Subhash Mela held every year in January on the birth anniversary of Netaji Subash Chandra Bose. It is a week long festival with various interesting with various interesting cultural programs and food stalls. Travellers are advised to dress a little conservatively during festive celebrations.