Best Hotels to Stay in Port Blair
Port Blair is the main entrance of the Andaman Islands and home to a most number of hotels in Andaman. Here will find plenty of places to stay in Port Blair that suit the pockets of each and every traveler. There are quite a few beach resorts and hotels available here on various islands. The choice ranges from few deluxe hotels to budget hotels. It is advisable to book your rooms at least a few days in advance, especially during the peak season. You can also book government lodges and hotels in Port Blair.
List of Popular Hotels in Port Blair
1 – Sinclairs Bay View
This hotel in Port Blair is about 15 minutes away from the airport and offers an unforgettable stay in the midst of the coral reefs, marine life, and tropical rain forests. The hotel's 46 rooms and suites are more than sea facing, they are virtually on the sea, opening out to the crystal blue Indian Ocean waters. The Valentine rooms offer views of the blue ocean on one side and Ross Island on the other. The Bay View Restaurant serves Indian, Continental and Chinese dishes accompanied with stunning views of the sea. Private candle light dinner can be organized for your birthday or anniversary. The freshwater swimming pool is open all year around. Guests can also rejuvenate at The Laya Spa, which offers world-class Swedish and Oriental therapies. It is one of the best honeymoon hotels in Port Blair.
Arrangement for a car on rents and recreational activities such as island camping, scuba diving, snorkeling, trekking, safe water sports can be made on prior request.
Address: South Point, Port Blair-744106. Andaman Islands, India.
Contact: +91-9932085305 / +91-3192-227824 / +91-3192-227937.
Email: portblair@sinclairshotels.com
---
2 – J Hotel
Located in the heart of Port Blair, the hotel is about 10 minutes drive from the airport. J Hotel is very near to major tourist attractions like national memorial cellular jail, water sports complex, corbyn's cove beach etc. All necessary items and shops are at walking distance from the hotel. Top view of the city from the dinning point is very beautiful. This 3-star hotel in Port Blair houses 32 elegantly designed rooms, all the rooms boast of modern decor and designed to serve varied requirements of guests. Guests can enjoy various delicacies at the roof top multi cuisine restaurant. Visitors who wish to investigate the city can take the help of travel work area and arrangement a touring tour. Currency exchange services are also available.
Address: Aberdeen Bazaar, near the clock tower, Port Blair- 744101. Andaman and Nicobar island, India.
Contact: +91-3192-246000
---
3 – Hotel Megapode Nest
Hotel Megapode Nest is a 3-star hotel in Port Blair spread over 7.5 acres of lush greenery. The hotel is only 4km away from the airport and is located on top of hillock offering a scenic view of the Harbour. With its serene and picturesque surroundings, the hotel offers an idyllic setting to relax, rejuvenate and attain peace of mind. Deluxe rooms, bamboo cottage, standard room and semi deluxe rooms are the multiple room options offered for accommodation. Homely ambiance and charming room decor ensure guests the comfort of a home. To wine and dine, a restaurant with a bar serves mouth watering cuisines and fine assorted wines.
Address: Manager Megapode Resort, Port Blair- 744101, Andaman and Nicobar Islands, India.
Contact: +91-3192-231664 / +91-3192-232380 / +91-3192-232207
Email: aniidco@gmail.com , http://aniidco.and.nic.in
---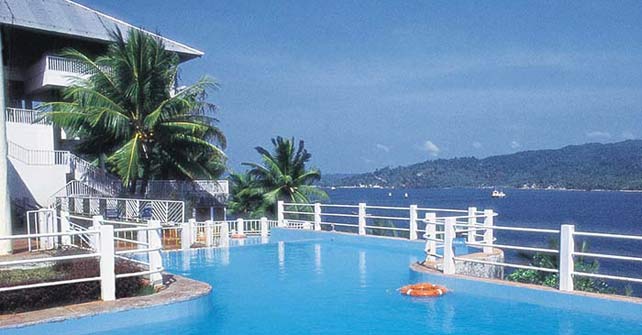 4 – Fortune Resort Bay Island
Nestled on the beach, Fortune Resort Bay Island is one of the most luxury hotels in Port Blair is built with the beautiful red timber, Padouk. Its architectural style reflects the native life of the islanders. The resort comprises 45 standard rooms, some of which overlook the sea. The rooms offer a glorious view, fresh air and natural light in all its glory. For dining guests can head towards Mandalay, that is an open deck restaurant. There is also the Look-Out lounge and a Nico Bar, specializing in tall fruity concoctions, served in coconut shells. The hotel provides packed breakfast services on chargeable basis. Guest can rejuvenate by playing some indoor games or by swimming in the pool. It is also one of the best resorts in Andaman Nicobar.
Address: Sea Front, City Centre, Marine Hill, Port Blair- 744101, Andaman Island, India.
Contact: +91-3192-234101
Email: bayisland@fortunehotels.in
---
5 – Hotel Sentinel
Hotel Sentinel is a 4star property offering a swimming pool and bar. Contemporary ambiance and scrumptious seafood make your experience grand. Centrally located to various ports, it acts as a seamless point to travel to the rest of the island. It features 50 rooms with are all air-conditioned. The rooms are equipped with all modern facilities. Hotel Sentinel has an on-site restaurant that serves Szechwan and Cantonese cuisine. Perfect for a long beach vacation, this hotel offers an impeccable hospitality and service through its well-trained staff.
Address: Phoenix Bay, Port Blair- 744101. Andaman and Nicobar Islands, India.
Contact: +91-3192-244915
---
6 – Peerless Sarovar Portico
Peerless Sarovar Portico is a 3-star hotel situated in Port Blair. The hotel is just 20 minutes drive from the Port Blair airport. It offers 30 garden view rooms, 16 sea view rooms and 4 cottages. All rooms are beautifully decorated and have modern amenities. Other facilities provided by the hotel are a business center, playground, currency exchange, game room and bus parking. The hotel's multi-cuisine restaurant serves a number of delicious from Indian, Chinese and Continental cuisine. The hotel's strategic location keeps you secluded from the main areas and yet offers easy connectivity to favorite tourist spots.
Address: Corbyn's Cove, Port Blair- 744101. Andaman Islands, India.
Contact: +91-3192-229311 / +91-3192-229313 / +91-3192-229321 / +91-3192-229323
Email: ppo@sarovarhotels.com , gmppo@sarovarhotels.com
---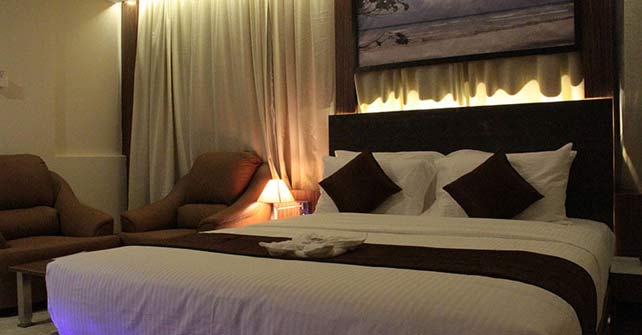 7 – Hotel Haywizz
It is located 3km away from Port Blair airport. Haywizz is one of the best hotels in Port Blair that offers 22 premium rooms with all modern amenities and personalized services. All the rooms are centrally air-conditioned and feature a simple decor, luxury furniture with a spacious layout and fresh atmosphere. The hotel offers 24-hour room services and provides free Wi-Fi internet access in all the rooms. The multi cuisine restaurant offers a wide variety of foods to guests. The resort with its economic accommodation and premium location makes for a great stay. For complete convenience during the stay, the hotel provides a host of facilities like restaurant, bar-lounge, banquet facilities, garden and spa services. The hotel is close to all the important places of tourist attraction in and around Port Blair.
Address: 36, MG Road, phoenix bay, Port Blair- 744102. Andaman and Nicobar Islands, India.
Contact: +91-3192-237777 / +91-3192-246666 / +91-9932087777 / +91-8001414800
Email: hotelhaywizz@gmail.com
---
8 – Sea Princess Beach Resort
Located in the Wandoor village, this property is 2-minute walk from the beach. This hotel in Port Blair features a good selection of rooms, adorned with wooden tones and textures. As per requirements, guests can make a choice from three types of accommodation options- Beach Front Suites, Standard, and Deluxe rooms. In addition, the resort has a spa, Jacuzzi, swimming pool, shopping arcade and well-manicured lawns. The property also has an open bar and restaurant namely 'The Grub Restaurant' serving multi-cuisine fare to its diners. There is also a bar where a variety of wines, cocktails, and other spirits can be enjoyed. Leisure travelers can avail exciting sightseeing packages from the on-site travel desk.
Address: New Wandoor Beach, Wandoor, Port Blair- 744101. Andaman and Nicobar Islands, India.
Contact: +91-3192-280002 / +91-3192-280034 / +91-9932089996
Email: info@seaprincessandaman.com , contact@seaprincessandaman.com
---
9 – Anugama Resort
It is a 3-star hotel located at 19km from Port Blair airport. This charming jungle resort provides simple accommodation surrounded by tropical greenery. Its location near the prominent hotspots makes it even more appealing. The aesthetically designed cottages with a stunning view of the scenic surrounding are equipped with the basic amenities and ensure a comfy and relaxed stay. The restaurant serves Indian and Continental cuisine. The hotel is an ultimate location for leisure trip because several tourist destinations are close to the hotel. Unwind yourself and have a wonderful stay at Anugama Resort.
Address: 127, Wandoor village, Port Blair- 744103. South Andaman Island, India.
Contact: +91-3192-280068 / +91-7797352994
Email: info@anugamaresort.com
---
10 – Sun City Resort
This 3-star property has all the essential amenities and facilities to make the stay pleasurable for discerning travelers. Veer Savarkar International airport is 5km away from this resort. Sun City provides a luggage storage to its visitors. The resort has 23 rooms, each done with utmost care. Upon request, the resort organizes born-fire for guests. A multi-cuisine restaurant and quick room service provide mouth-watering delicacies and refreshing beverages to spice up the customer's delight. Sun City Resort is an escape for those who want to escape from the maddening crowd.
Address: Bidnabad village, near Chidia Tapu Tahasil, Port Blair- 744105. South Andaman, India.
Contact: 033-40251111 / 033-40464646
---
11 – Sea Shell Port Blair
The Sea Shell at Port Blair is one of the best hotels in Port Blair. The roof top lounge has a great view of the bay and is an excellent place to enjoy an evening. This hotel is located in Aberdeen bazaar and 10minutes away from the airport. It is very close to the jetty from where the boats to Havelock / Neil are available. The property offers an eclectic mix of fine dining, leisure activities and comprehensive business facilities to its guests. This property is also rated for the best value in Port Blair. The in house Salt N Pepper restaurant serves Indian and International, Amaya- the rooftop lounge is the place to go for a refreshing beverage or two. Room service options are available. Housing a total of 34 rooms across 3 floors , each room is well equipped with AC, LCD, mini bar and coffee/tea maker. Sea Shell also arranges honeymoon packages with candle light dinner.
Address: Marine Hill, Port Blair- 744101.
Contact: +91-3192-242773 / +91-9933239625 / +91-9531907006
Email: info@seashellportblair.com
1 Comment